Logic Mountain is proud to announce the launch of AmeliaIslandEscapeRooms.com for the much anticipated Amelia Island Escape Rooms that is opening in Amelia Island on April 15th.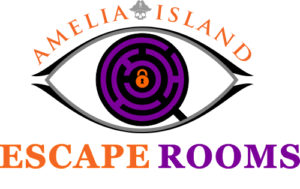 We love this logo!  I know you're not supposed to pick favorites with your clients.  But we really enjoyed working with Cari and Dan Cahill to design this unique logo.  It's fun, intriguing, and captures the essence of this unique Escape Room business.  As a graphic designer, there is nothing more rewarding to a graphic designer than to see your logo design blown up to a full 5′ X 5′ window display sign.  Not to mention seeing the design on t-shirts, marketing media, and around town.  We are particularly proud of this one.
We delivered it fast.  Amelia Island Escape Room owners Dan and Cari said they needed this website live and launched in 30 days.  Along with the logo designed from scratch.  We said "no problem."  The logo and website were delivered and launched – on time, on budget, fully functional, and they are taking reservations as planned, a month before opening.
As with all Logic Mountain websites, AmeliaIslandEscapeRooms.com is "responsive" and adjusts to display properly on modern smartphones and tablets.  The site allows visitors to book their Escape Room experience and pay online.  The site features "Full Site SSL," ensuring safe, secure, encrypted communication of any personal information.
What's an Escape Room?  An escape room is a memorable, immersive experience where you are "locked" in a room, and are tasked with finding clues and solving puzzles in order to escape.  Each room has a different theme, but whether you are escaping from a Dread Pirate or solving the mysteries of the ghosts in an attic, I guarantee you it is amazingly fun.
To learn more about the most exciting adventure in the Amelia Island area and Plan Your Escape visit AmeliaIslandEscapeRooms.com.